Keywords
Anastomotic Leak; Omentum; Pancreaticoduodenectomy; Pancreaticojejunostomy
Abbrevations
GDA gastroduodenal artery; PD Pancreaticoduodenectomy; PJ Pancreaticojejunostomy
INTRODUCTION
Pancreato-duodenectomy (PD) is the procedure of choice for periampullary and pancreatic head cancers. PD involves three anastomoses pancreatic, biliary and gastric/duodenal, of which the pancreatic anastomosis is the most likely to leak and result in complications viz. collection, abscess and erosion into a vascular e.g. gastro-duodenal artery (GDA) stump, causing catastrophic intra-abdominal bleed occurring usually during the second week after operation.
Omentum has been used to protect various anastomoses. We had earlier reported an initial experience of 25 cases with the use of an omental flap to protect the pancreatico-jejunostomy (PJ) in PD [1]. We now report a much larger experience of 132 cases.
PATIENTS AND METHODS
All patients who underwent PD at a tertiary level referral hospital in India from 1989 through 2015 were entered in a prospectively maintained database - retrospective analysis of these patients was done. Omental flap was used in 132 patients (omental flap group). These 132 patients were compared for demographic and clinical characteristics, preoperative parameters, intraoperative findings and postoperative morbidity and mortality with 652 patients who underwent PD without the use of an omental flap (no omental flap group).
TECHNIQUE
PD (either pylorus preserving or classical) was performed using the standard technique. A vascularized omental flap based on an epiploic branch of the right gastro-epiploic artery was prepared from the greater omentum. The omental flap was placed anterior to the portal vein so as to cover the GDA stump before beginning the PJ anastomosis and was fixed to the retroperitoneum with a few interrupted sutures. The PJ was then performed and the omental flap wrapped around the completed PJ anastomosis. The omental flap was then fixed to the pancreas and the jejunum on either side of the PJ.
DEFINITIONS
PJ leak was defined according to the International Study Group for Pancreatic Fistula (ISGPF) classification as any amount of fluid in an intraoperatively placed drain (or a subsequently placed percutaneous drain) with an amylase level greater than three times the upper normal serum amylase value.
Post-PD bleed was defined as intra-abdominal (any amount of blood in the drains) or intra-luminal (hematemesis, melena or blood in the Ryle's tube). Delayed bleed was defined as that occurring seven days after surgery.
RESULTS
The demographic characteristics and preoperative parameters (hemoglobin and serum albumin) were similar in two groups though patients in the omental flap group had a lower serum bilirubin as compared to the no omental flap group (Table 1).
Intraoperative findings in two groups are compared in Table 2. The consistency of pancreas was soft in similar proportions in two groups. The diameter of the main pancreatic duct was smaller in the omental flap group as compared to the no omental flap group. An internal pancreatic stent was used less often in the omental flap group as compared to the no omental flap group.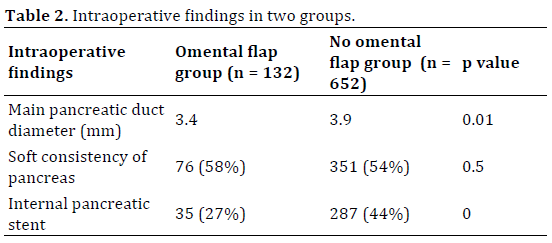 The incidence of PJ leak, hepatico-jejunostomy (HJ) leak and gastro-/duodeno-jejunostomy (GJ/DJ) leak were similar in two groups. The incidence of intraabdominal abscess and delayed gastric emptying was similar in two groups but septicemia was less frequent in the omental flap group as compared to the no omental flap group. Post PD bleed including intraabdominal bleed occurred in similar proportion of patients in two groups (Table 3).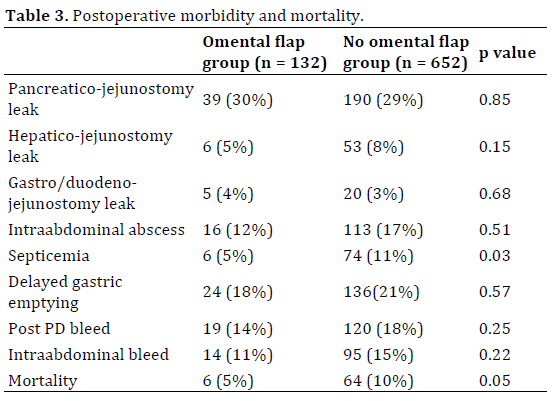 Incidence of grade C bleed in the omental flap group was less as compared to the no omental flap group (Table 4). Omental flap group had less delayed intraabdominal bleed as compared to no omental flap group (Table 5).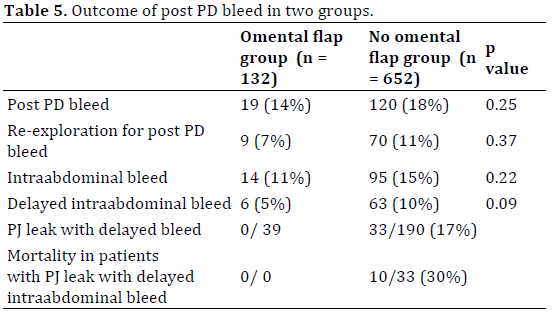 In the omental flap group, 8 bleeds were early intra-abdominal bleeds all were reexplored and bleed controlled – no patient died. 6 (5%) bleeds were delayed intra-abdominal bleeds. Two patients had minor/ insignificant delayed intra-abdominal bleed from the drain site after removal of drains the bleed did not warrant any investigation and settled on its own. Two patients with delayed intra-abdominal bleed were investigated with CT angiography which was normal bleed stopped without any intervention in both patients. Two patients had large bleeds and were re-explored without any investigations one was found to be bleeding from a vessel in the mesocolic window through which the jejunal limb was taken from the infracolic to the supracolic compartment the bleed was controlled with suture ligature; the other was found to be bleeding from the sloughed wall of the superior mesenteric vein (SMV) an attempt was made to suture repair the SMV but was unsuccessful and the patient died of bleeding - in both these cases the PJ was intact and there was no PJ leak. While 39 (30%) patients in the omental flap group had PJ leak, none of the 39 patients with PJ leak had delayed intra-abdominal bleed.
None of the patients had any complications related to the use of the omental flap; some patients were, however, noticed to have turbid drainage attributed to necrosis of the omental fat.
In the omental flap group, 13 (10%) patients required re-exploration 8 for early intra-abdominal bleed (vide supra), 2 for delayed intra-abdominal bleed (vide supra), 2 for DJ leak and one for acute pancreatitis. 6 (4.5%) patients in the omental flap group died - the causes of death were PJ leak with septicemia (2), acute pancreatitis (1), colonic perforation (1), cardiac (1) and SMV bleed (1). None of the 6 deaths were because of delayed intra-abdominal bleed secondary to PJ leak. Two out of 13 re-explorations were for delayed intra-abdominal bleed as described above. Mortality of PJ leak alone was 2/39 (5%) but none of the patients with PJ leak died of delayed intra-abdominal bleed.
DISCUSSION
PD is one of the most major surgical procedures performed for hepato-biliary-pancreatic diseases. While mortality has been brought down to less than 5%, morbidity still remains high [2]. PJ leak is the most morbid complication of PD. It is not the leak itself but its consequences viz. collection, infection of the collection leading to abscess and erosion of the abscess into stumps of ligated vessels, especially GDA, and adjacent vessels viz. hepatic and superior mesenteric artery and portal and superior mesenteric veins which are exposed and skeletonized during resection, leading to rupture, blow out and pseudo-aneurysm presenting as delayed intra-abdominal bleed which, if not controlled in time, can be life threatening [3]. If the vascular stumps and exposed vessels can be isolated from the collection/ abscess forming as a result of the PJ leak, the potentially fatal delayed intra-abdominal bleed can be prevented even if PJ leak occurs.
The risk factors for PJ leak include pancreatic texture (soft glands are more likely to leak than firm glands) and pancreatic duct diameter (higher leak rates with undilated than dilated ducts) [4]. Several methods have been described to reduce the risk of PJ leak e.g. use of somatostatin or its analogues [5], use of pancreatic stents [6], use of tissue glue [7] and various techniques of anastomosis [8]. None of these is, however, expected to reduce the risk of secondary delayed intra-abdominal bleed as a consequence of PJ leak.
Omentum adheres to injured and inflamed tissues and promotes revascularization and angiogenesis; it also promotes activation of prothrombin [9].
We used a pedicled vascularized omental flap to separate the vascular stumps and exposed vessels from the PJ anastomosis in 132 patients – none of the patients had a delayed intra-abdominal bleed due to PJ leak and none of the deaths was attributed to delayed intra-abdominal bleed due to PJ leak. One patient in the omental flap group who required reexploration and died because of SMV bleed did not have a PJ leak; it is postulated that the SMV wall sloughed probably because of excessive and inappropriate use of an energy device close to the vessel wall.
Moriura [10], for the first time, reported the use of an omental flap to protect the splanchnic vessels exposed during dissection and to protect the anastomoses in PD. Seyama, [11] placed an omental graft behind the PJ in 14 patients and reported that it prevented pancreatic fistula and subsequent infection and hemorrhage. Kurosaki, [12] placed the omental flap behind the PJ in 54 patients-pancreatic leak occurred in 5 patients but no patient had intra-abdominal bleeding. Maeda, [13] covered major splanchnic arteries and portal vein with omental flap in 100 cases – pancreatic fistula occurred in 20% but intra-abdominal bleed occurred in only 1 patient who had a very thin (inadequate) omental flap. Choi, [14] reported that an omental roll up around the PJ was associated with a significantly lower incidence of pancreatic fistula (6/29; 21% vs. 23/39; 59%), earlier drain removal and shorter hospital stay. Rosso, [15] described a double omental flap to protect pancreaticogastrostomy (PG) there was significant reduction in perianastomotic collections and need for relaparotomy in the double omental flap group (n=33) as compared to the no omental flap group (n=28). Matsuda, [16] compared use of omental flap over skeletonised splanchnic vessels (n=157) with historical no omental flap group (n=72). Pancreatic fistula rates were similar 58/157 (37%) vs. 23/72 (32%) but pseudo-aneurysms were less frequent 3/157 (1.9%) vs. 6/72 (8.3%) in the omental flap group; on multivariate analysis, omental flap reduced the risk of pseudo-aneurysm by 0.15 fold. Shah, [17] reported use of omental flaps in 101 patients undergoing PD and compared them with 46 historical patients in whom omental flap was not used. Omental flaps reduced the incidence of pancreatic fistula from 17.4% to 4.0%; none of the patients in omental flap group had post pancreatectomy hemorrhage. A recent metaanalysis of 4 articles including 2,971 patients (1,129 in omental roll up group and 1,842 in non-omental group), however, found that omental roll up could not prevent post operative pancreatic fistula or postoperative intra-abdominal bleed [18].
Falciform ligament has also been used to protect the PJ and the vessels after PD. Sakamoto, [19] wrapped the gastro-duodenal artery (GDA) stump using the falciform ligament in 136 patients – pancreatic fistula occurred in 72 (53%) patients but only one patient developed significant hemorrhage associated with pancreatic fistula. Abe, [20] used pedicled falciform ligament which was spread widely on the major vessels exposed after resection before reconstruction was begun; it was fixed to the surrounding retro-peritoneal tissue such that it separated these vessels from the PJ - 10/36 (28%) patients developed pancreatic fistula and 3 (8%) developed intra-abdominal infection but none developed post PD hemorrhage. Mimatsu, [21] used both greater omentum and falciform ligament in 20 patient's pancreatic fistula occurred in 2 but none of the patients had intra-abdominal abscess or hemorrhage. Tani, [22] reported a Japanese Society of Pancreatic Surgery (JSPS) nationwide survey of 91 institutions including 3,288 patients operated between January 2006 and June 2008 omentum/ falciform ligament wrapping was used in 918 (35%) patients. Pancreatic fistula rate was higher (43% vs. 37%) in the wrap group but intra-abdominal hemorrhage (3.5% vs. 3.2%) and mortality (1.0% vs. 1.3%) was same in the two groups. Wrapping did not decrease the incidence of pancreatic fistula or hemorrhage.
Omental flaps have been used to protect other (non-pancreatic) anastomoses also. Hao, [23] performed a met analysis of 3 randomized controlled trials including 943 patients of omentoplasty after colo-rectal resections and found that it reduced risk of clinical anastomotic leakage of colo-rectal anastomosis. Yuan, [24] performed a review of 2 randomized controlled trials including 449 patients of omentoplasty for esophago-gastrostomy after esophagectomy and found lower leak rate in the omentoplasty group. Madan, [25] used omentum to reinforce repair of intra-operative staple line dehiscence or gastric pouch or GJ leak during laparoscopic RYGBP in 32 patients – none developed postoperative leak. Ye, [26] used pedicled greater omentum flap as a wrap to protect biliary anastomosis in liver transplant - only 1/14 patients developed a mild bile leak. Ebata, [27] used pedicled omentum for hilar cholangioplasty in a patient with a large bilio-biliary fistula (Mirizzi's syndrome). Basatac, [28] treated a vesico-cutaneous fistula using omental interposition. Vaziri, [29] performed omentoplasty in deep sternal wound infection. Omental flap has been used to provide cover to other exposed vessels also Panaro, [30] covered hepatic artery with an omental flap during liver transplant.
We prefer omental flap over the falciform ligament because the soft and wide omental flap can be more easily spread and wrapped around the PJ than the firm and round falciform ligament.
We had hypothesized [1] that the use of an omental flap will reduce the risk of PJ leak also but it does not seem to be so as our leak rates were high. This is probably because majority of our PDs were performed for periampullary cancers with soft pancreas and undilated main pancreatic duct (rather than for cancer of the head of pancreas or chronic pancreatitis with firm pancreas and dilated main pancreatic duct). Another reason could be that ours is an academic unit which has a training program for fellowship in surgical gastroenterology – the PDs were performed by consultants in various grades as well as by the fellows in training.
In a large experience with 132 cases, we found a vascularized omental flap wrapped around the PJ to protect the adjacent GDA stump from the ill effects of a PJ leak and prevent the catastrophic delayed intra-abdominal bleed. Creation of an omental flap is simple; we recommend it to be used in all patients undergoing PD.
Conflict of interest
The authors declare that there are no conflicts of interest.
References